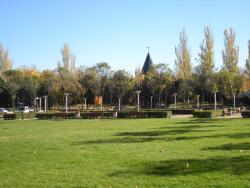 The REGISTRATION IS OPENED: MIND THE DEADLINE!
This international scientific in-person event must be a MOTIVATION FOR ALL, including young attendants to get vaccinated. VACCINATION, A REMARKABLE SCIENTIFIC ACHIEVEMENT, IS THE TOOL TO WIN the PANDEMIC.
The registration procedure goes in two steps:
1) The School attendant (student) fill in the registration form and includes her/his CV and poster abstract.
Her/his application will be reviewed by the School committee that will communicate the attendant the acceptance or rejection of their application.
2) In case the application is accepted, the School attendant should proceed to the payment of the School fee.
The deadline for students to register is August the 19th, 2021.
The fee for students includes: accommodation with breakfast as well as  lunches at the University Campus for the two weeks of the school. It also includes the social event on Sunday August 29th, excursion and lunch.
 The fee for students is:
    - 850 euros (single room accommodation. Single room is mandatory for safety reasons)
    - 164 euros (students who do not need any accommodation)
Students will get a certificate of attendance and of fee payment at arrival, signed by the Chair of the Local Organising Committee. However, some Spanish institutions require an invoice of the fee payment in addition. If this is your case, send the name and CIF (VAT) of your institution to the contact email address of the event.
The payment must be done through a bank transfer to the following account:
ES34 0049 6704 5829 1000 2485
indicating the following:   INFIERI + your name + the name of your  institute. 
The deadline for the bank transfer is July the 19th, 2021.
Exceptionally, students who did not manage to perform the bank transfer in time, will be allowed to pay in cash at arrival.
In case a student has to cancel because of a last minute important issue, the bank transferred payment will be reimbursed. 
For filling in the registration form, go to the following CERN indico page: